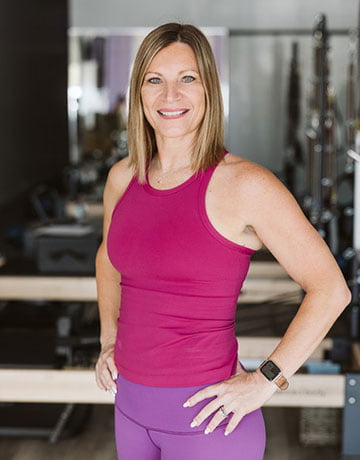 Chanda Fetter
Studio Owner
Biography:
Studio Owner, Master Trainer: A Santa Barbara resident since 1991, Chanda has incredible credentials and a long history in the Fitness Industry.
She has been certifying and mentoring Pilates instructors both locally and globally for over 20 years. She has mentored Jenny Schatzle, Emilee Garfield, and countless other fitness professionals, Pilates and otherwise here in SB. She's presented for the IDEA World Convention, Master Presented all across the US, and managed three local Gold's Gyms for over 15 years. Chanda then decided to take her shot at creating her own vision and has owned/operated CoreSport since 2007.
Her career path started as a Professional Ballet Dancer for Sacramento Ballet. She trained with Ballet West Colorado, San Francisco Ballet, and Boston Ballet prior to hanging up her pointe shoes and moving to Santa Barbara. Her schooling was focused on Sociology, Fitness, and Physical Therapy.
These tools have helped her develop a unique studio model like no other. Her passion is helping people understand and get more out of their bodies which then provides the opportunity to have a better and more fulfilling quality of life!